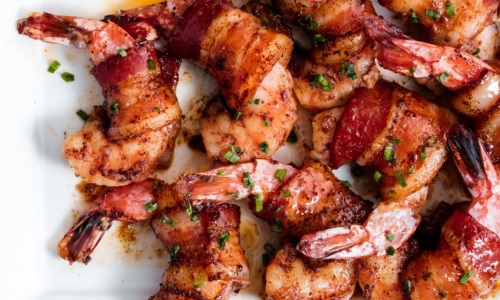 Yields: 20
Prep Time: 0 Hours 10 Mins
Cook Time: 0 Hours 20 Mins
Total Time: 0 Hours 30 Mins
INGREDIENTS:
1 lb. Shrimp (about 20 pieces), pealed and deveined, with tails still on
7 pieces of thick cut bacon, cut into thirds
4 tbsp. butter, melted
2 tbsp. maple syrup
1 tbsp. chili powder
DIRECTIONS:
Preheat oven to 400 degrees. Line a large baking sheet with aluminum foil. Wrap shrimp with a third piece of bacon and secure with a toothpick. Place shrimp on prepared pan.
In a small bowl mix together butter, maple syrup, and chili powder.
Brush shrimp with about half of the butter.
Bake for 15 minutes or until bacon is crisp and shrimp is cooked.
Brush with remaining butter and broil 3 minutes.