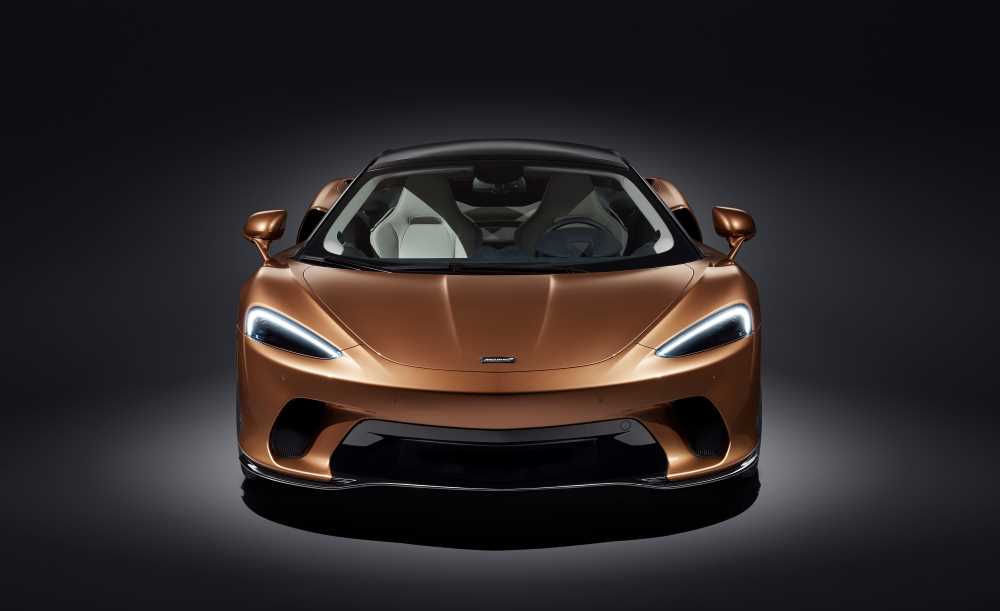 McLaren's newest supercar doesn't fit into its existing model hierarchy.
The mid-engined McLaren GT, which was first announced in March at the Geneva auto show, is a new model aimed at classic front-engined grand tourers.
The GT is a pure two-seater on a modified version of the Monocell-T carbon-fiber tub, but it still boasts nearly 15 cubic feet of rear storage space.
McLaren quotes a 3.1-second zero-to-60-mph time, a 9.0-second zero-to-124-mph time, and a 203-mph top speed.
England's posher automakers seem to be engaged in an artillery duel. Recently, Aston Martin has announced plans to launch two mid-engined supercars clearly aimed at Ferrari, Lamborghini, and McLaren, as previewed by the AM-RB 003 and Vanquish concepts. Now McLaren seems to be getting its retaliation in first with a car whose luxurious mission is implicit within its name: the GT.

Of course, McLaren has used GT branding before, but the outgoing 570GT was a member of the brand's entry Sports Series. The new GT—which stands for Grand Tourer—is a model in its own right, and McLaren says it doesn't fit into the existing model hierarchy of Sports, Super, and Ultimate Series. We're promised it will offer unprecedented levels of both practicality and comfort, despite having a mid-mounted powerplant in a part of the market where cars traditionally stow their engines up front.
The Chassis
The GT's most obvious disadvantage is its relative lack of passenger accommodation. In a segment where almost every significant rival offers at least plus-two practicality it remains a strict two-seater; the massively more expensive three-seat Speedtail remains the only McLaren for those who want to travel with more than one passenger.
But it is definitely the most practical McLaren yet. Underneath, the GT sits on a modified version of McLaren's carbon-fiber tub, the Monocell-T (for Touring). This incorporates an additional carbon frame at the rear, which allows for the large hatchback that gives access to the luggage space positioned above the engine.
While this is similar in principle to the compartment that sat at the back of the 570GT, the new rear luggage space is much larger: 14.8 cubic feet, according to McLaren, which makes it capable of accommodating both a full-size set of golf clubs and two flight bags at the same time. That's why the decision was taken to move away from the 570GT's side-hinged glass cover to a more conventional rear-hinged tailgate.
"It's much easier to put something heavy in from the back than the side," Tom Taylor, McLaren's global product manager, said as he talked us around the car. The tailgate will also come with the option of power operation, a first for McLaren. With an additional 5.3 cubic feett of volume in the front compartment, the GT has more room for luggage than any competitor.
While the GT won't have the interconnected hydraulic dampers of the more expensive 720S, it does get active shock absorbers under the control of what McLaren calls its Proactive Damping Control system, which are able to react to changing road conditions in as little as two milliseconds. We're told to expect the most compliant ride from any McLaren, even on standard 21-inch rear wheels (with 20s at the front). Ride height has been increased over other McLarens, with a minimum of 4.3 inches of clearance under the car and a 10-degree approach angle beneath the front splitter, reducing anxiety about expensive grinding noises.
The Powertrain
Power comes from a reworked version of the 4.0-liter twin-turbo V-8, as seen in the 720S, with sufficient changes to have been awarded a new design code: M840TE. The engine has new smaller turbochargers to improve responsiveness at lower speeds. Peak power is 612 horsepower at 7500 rpm, but although the maximum 465 lb-ft of torque arrives at 5500 rpm, Taylor says the GT has been engineered to be happy when operating at a scant percentage of its potential, with 95 percent of the torque peak already present at 3500 rpm.
The exhaust soundtrack has been engineered to have the bass-heavy harmonics that buyers reportedly associate with grand tourers. Refinement hasn't come at the expense of performance, which will still be brutal. McLaren quotes a 3.1-second zero-to-60-mph time, a 9.0-second zero-to-124-mph time, and a 203-mph top speed.
Exterior Design
According to McLaren design director Rob Melville, the GT has been styled to have a "less intense visual appearance" than its sportier sisters. It is longer than both the 570GT, with an overall length of 184.4 inches making it 6.1 inches bigger. It is only slightly taller though, at 47.8 inches, so only half an inch—with Melville saying much of his design team's effort was expended on giving it the visual heft more appropriate to a grand tourer with a higher nose and clean surfacing.
Less demanding aerodynamic targets have allowed the GT to have some cleaner design; its doors don't have the integral air channels of the S-suffix models, and both front and rear bumpers have more structure and less gap.
"It's not about chasing drag targets or huge power," Melville says. "What we wanted for the GT was a very simple, clean, bold design."
Interior Design
It is fair to say that "plush" isn't a word we have previously been tempted to apply to any McLaren interior. The GT is clearly intended to change that, featuring hides and microfiber where we would normally find various forms of naked carbon. But the company is determined not to fall into any of the clichés associated with the cabins of luxury British sports cars. "We thought about wooden trim for about 30 seconds," Melville says, "but then realized it just wasn't right for us."
Nappa leather trim is standard but can be upgraded to either softer hide or microfiber. Cashmere will also be offered as a choice, since vegan-friendly vehicle interiors are now a growing trend. The GT gets new seats with more generous shoulder padding and back support and both electrical adjustment and heating as standard. The trim panel in front of the passenger, and those on the door skins, incorporate "hidden until lit" illumination elements. The new 12.3-inch touchscreen at the center of the dashboard controls what we're told is a new, and far smarter, infotainment system. It will be possible to have the rear luggage compartment trimmed with extra-tough fabric incorporating tiny plate elements to resist wear.
We're are also promised the GT will be considerably quieter, despite the proximity of the engine to the rear firewall. On McLaren's numbers the GT weighs 3384 pounds, about 71 pounds more than the 570S, with much of that difference due to plusher trim and more sound-deadening material. "At 60 mph it's about 4 decibels quieter than a DB11," Taylor promises, and "people are going to be very surprised at how well-insulated it is."
The GT is available to order now with the first deliveries starting toward the end of the year. U.S. pricing is set at $210,000.
---
Article via caranddriver.com