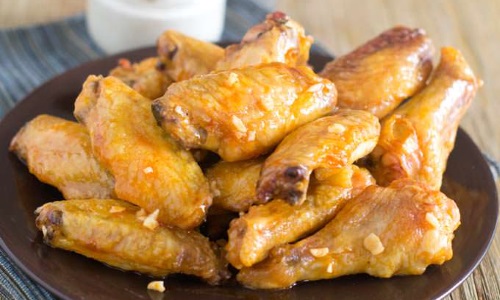 Toss out that deep fryer, just like last year's jeans. We've got the solution to crispy chicken wings without the hassle of deep frying. These ones are baked but use a secret technique to make them extra crisp.
Yields: 2
Prep Time: 0 Hours 10 Mins
Cook Time: 1 Hours 15 Mins
Total Time: 1 Hours 25 Mins
INGREDIENTS:
30 Wing Pieces
1/2 tsp. Kosher Salt
1 tbsp. Baking Powder (Not Baking Soda)
DIRECTIONS:
Cut up 10 whole chicken wings. (When you cut ten wings, you end up with 30 wing pieces. That's 10 drumettes, 10 flaps and 10 wing tips. You'll either discard the wing tips or save them for another use. That leaves 20 wing pieces that you're using here. (Or you can use your favorite frozen chicken wings which is what I do.) Once they're all cut up, put them into a big bowl. Sprinkle with 1/2 teaspoon of salt and 1 tablespoon of aluminum-free baking powder (and NOT baking soda!). It doesn't seem like much but you're not trying to make a coating for the wings here. You're trying to change their ph level so that they will crisp up better.
Mix it up. Don't be afraid to use your hands. It's way easier and one less thing to wash. It's gobs of fun too! (Hey look! My nails match the bowl! This was unplanned but I like it).
Place the wings on a cooking rack in a sheet pan. This lets air circulate all around the chicken pieces so that they get evenly crisp. It also lets the fat drip away from the chicken, leading to crispy, crispy, crispy skin.
Place the chicken in a 250°F oven for 30 minutes. This gets some of the fat rendered from under the skin and starts that drying out process. Here's how they look after 30 minutes. These are not cooked. Do not eat them. Yet.
Leave them in the oven and crank the heat up to 425°F and cook 40-50 minutes more, until golden brown and so crispy.
Toss them in a super-amazing sauce.