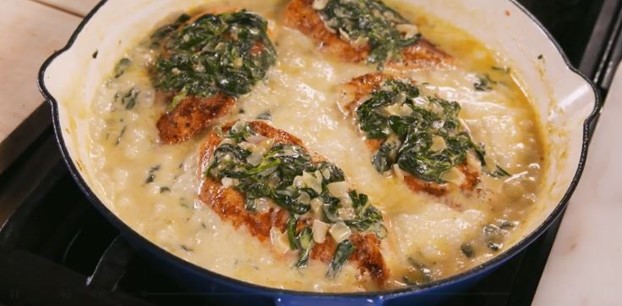 Yields: 4
Prep Time: 0 Hours 10 Mins
Cook Time: 0 Hours 25 Mins
Total Time: 0 Hours 35 Mins
INGREDIENTS:
2 tbsp. extra-virgin olive oil, divided
4 boneless skinless chicken breasts
2 tsp. paprika
Kosher salt
Freshly ground black pepper
1 medium yellow onion, chopped
2 cloves garlic, minced
10 oz. baby spinach
1 c. heavy cream
3/4 c. low-sodium chicken broth
1 c. shredded mozzarella
1/2 c. freshly grated parmesan
Crusty bread, for serving (optional)
DIRECTIONS:
In a large skillet over medium heat, heat 1 tablespoon oil. Season chicken with paprika, salt, and pepper and cook until golden and no longer pink, 8 minutes per side. Transfer to a plate.
Heat remaining tablespoon oil. Add onion and cook until soft, 5 minutes, then add garlic and cook 1 minute more. Add spinach, in batches, until wilted.  
Pour over heavy cream and chicken broth and simmer 3 minutes. Add mozzarella and Parmesan and stir until melted, then return chicken to skillet and simmer 5 minutes.
Serve creamed spinach spooned over chicken with bread, if using.