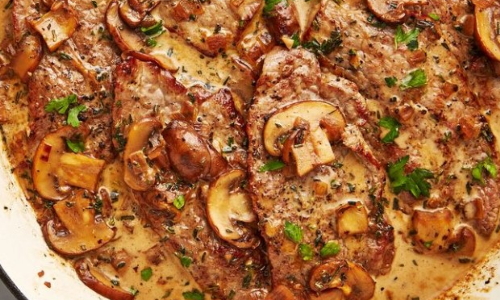 Yields: 6
Prep Time: 0 Hours 20 Mins
Cook Time: 0 Hours 25 Mins
Total Time: 0 Hours 45 Mins
INGREDIENTS:
2 pounds veal cutlet
Kosher salt
Freshly ground black pepper
1 tbsp. extra-virgin olive oil
3 tbsp. butter
1 shallot, chopped
8 oz. baby bella mushrooms, sliced
2 cloves garlic, minced
3/4 cup marsala wine
3/4 cup low-sodium beef broth
1/2 cup heavy cream
2 tsp. freshly chopped rosemary
1 tsp. freshly chopped thyme leaves
Freshly chopped parsely, for serving
DIRECTIONS:
Season veal with salt and pepper. In a large skillet over medium heat, heat oil. Cook veal until golden, about 2 minutes per side. Remove from pan and keep warm on a plate.
To same skillet over medium heat, melt butter. Add shallots and mushrooms and cook until soft, 5 minutes. Add garlic and cook until fragrant, 1 minute more. Season with salt and pepper.
Add wine and broth and scrape up any bits off bottom of pan. Bring to a simmer and let simmer until reduced by half. Add heavy cream, rosemary, and thyme and return to a simmer.
Return veal to skillet and spoon sauce over. Continue to simmer until heated through, 5 minutes.
Garnish with parsley before serving.